Testomatio Reporter version 1.0.0
We are excited to unveil the latest version of our Testomatio Reporter, designed to provide you with even more powerful insights into your testing process. With enhanced features and improved functionality, our Test Reporter empowers you to gain comprehensive visibility and make informed decisions based on accurate testing data.
Testomat.io Reporter supports:
🏄 Integarion with all popular JavaScript/TypeScript frameworks
🗄️ Screenshots, videos, traces uploaded into S3 bucket
🔎 Stack traces and error messages
🐙 GitHub & GitLab integration
🚅 Realtime reports
🗃️ Other test frameworks supported via JUNit XML
💯 Free & open-source
📊 Public and private Run reports on cloud via Testomat.io App
See how it works here.
Obtain S3 Credentials From Testomat.io By Reporter
Another new feature in our test management system that simplifies the process of accessing your testing artifacts stored in S3. With this latest enhancement, you can now obtain S3 credentials directly from our system, streamlining your access to essential testing resources. Our integrated solution enables you to seamlessly retrieve your S3 credentials within our system, eliminating the need for manual configuration or complex setup. With a few simple steps, you'll have the necessary credentials to securely access your testing artifacts hosted on S3.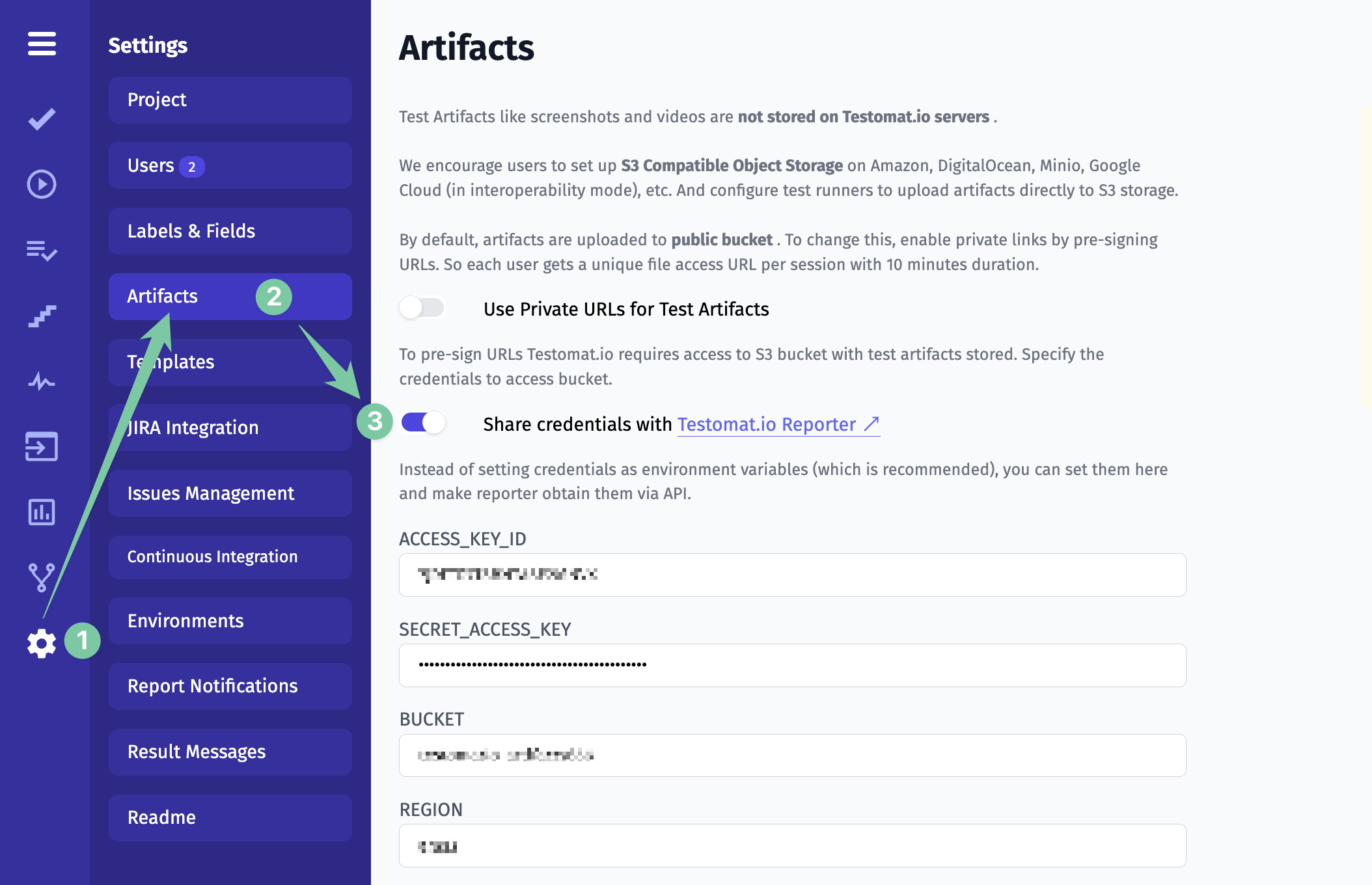 Notification Rules Impovements
We expanded Notification Rules capabilities, so now you can:
Add tags to notification rules
Add collection of all tests to notification rules
Validatie notification rules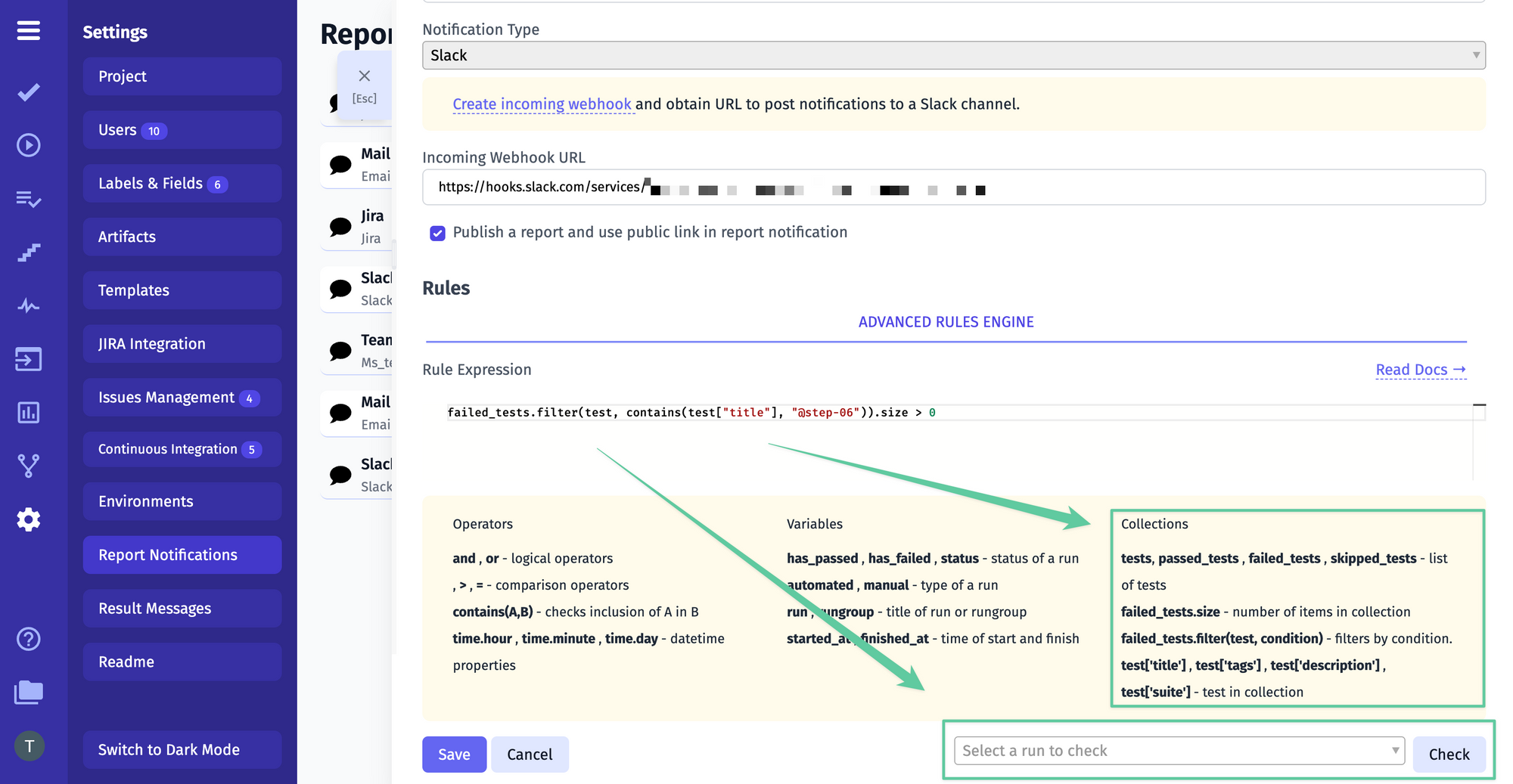 Full-Screen Mode For Test and Suite Editor
With this new feature, you can now maximize your editing experience by expanding the editor interface to fill your entire screen. When you activate Full-Screen Mode, distractions melt away as the editor takes center stage, providing you with a spacious and immersive environment for creating and editing your tests and suites. Say goodbye to cluttered screens and hello to focused productivity.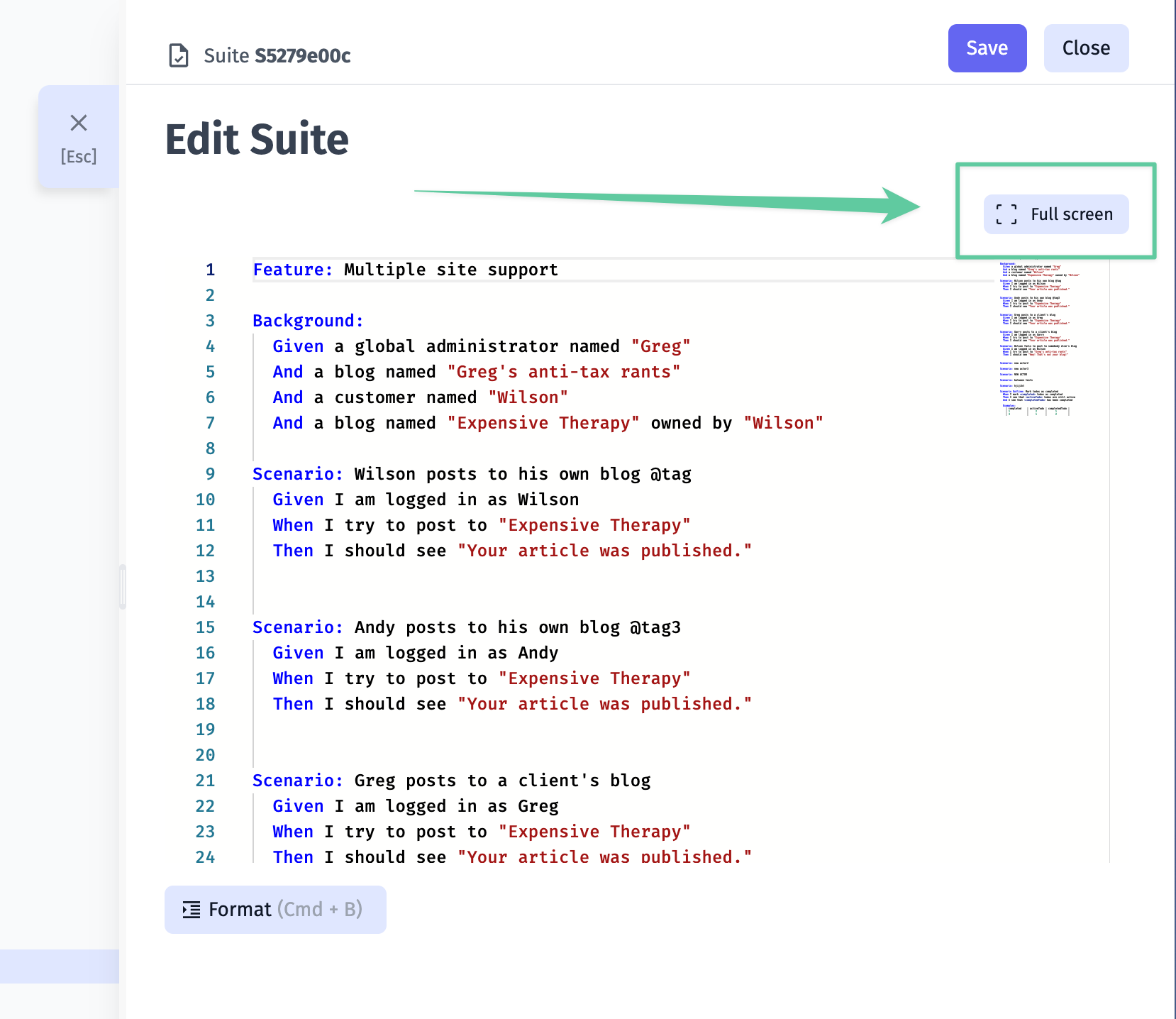 Preview Mode In Markdown Editor
You can now get an instant, real-time preview of your Markdown content as you write and edit. Preview Mode takes your Markdown text and transforms it into a beautifully rendered view, allowing you to visualize how your content will look when published. Make adjustments and revisions in the Markdown Editor while simultaneously viewing the updated preview, allowing for a smooth and efficient editing process.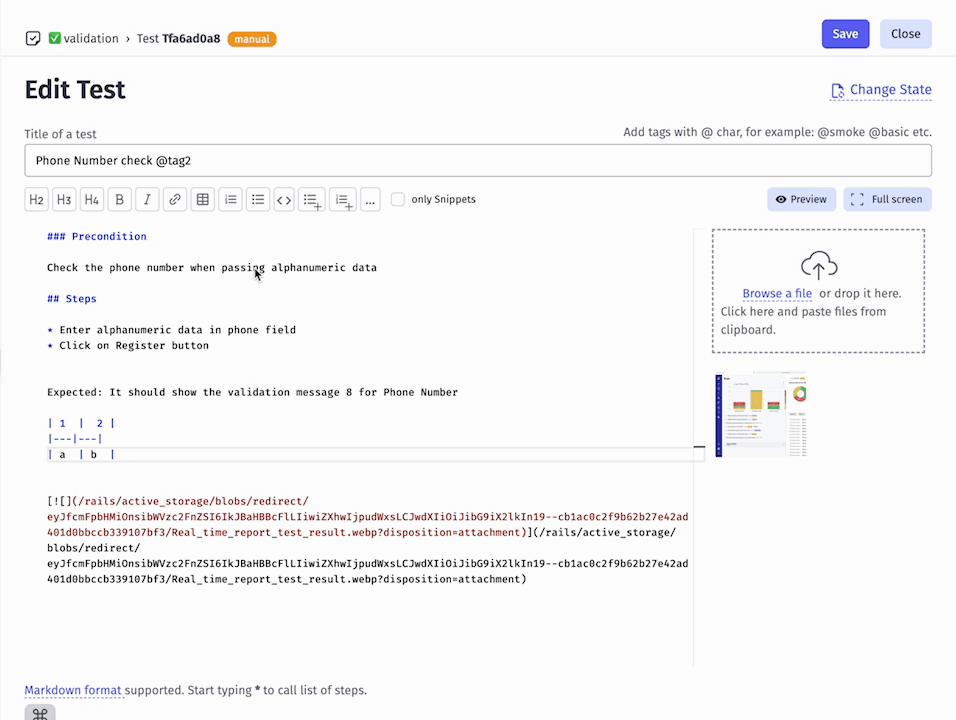 Steps Autocompletion With Ordered List
Maintain clarity and organization in your test cases by leveraging the ordered list structure. Enjoy the convenience of quickly selecting and appending suggested steps, eliminating the need for manual typing and repetitive entry. Each step is automatically assigned a sequential number, ensuring a clear and logical flow of test execution.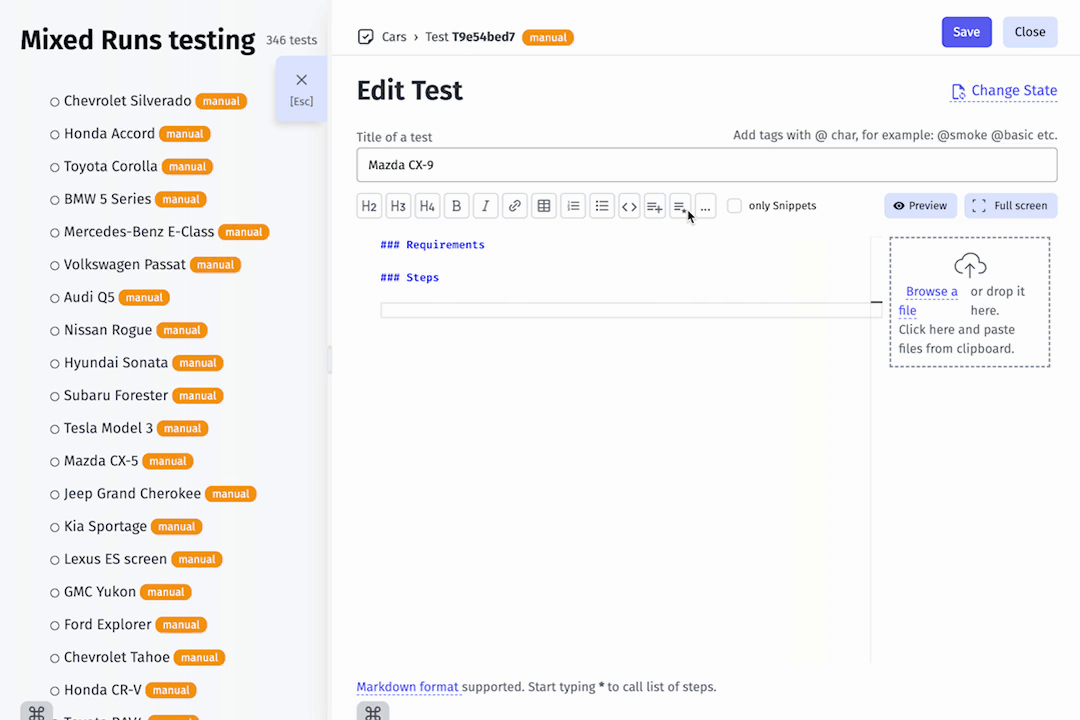 Search For Teams
Search by users and project while creating or editing your teams.
You can learn more about Testmat.io Teams here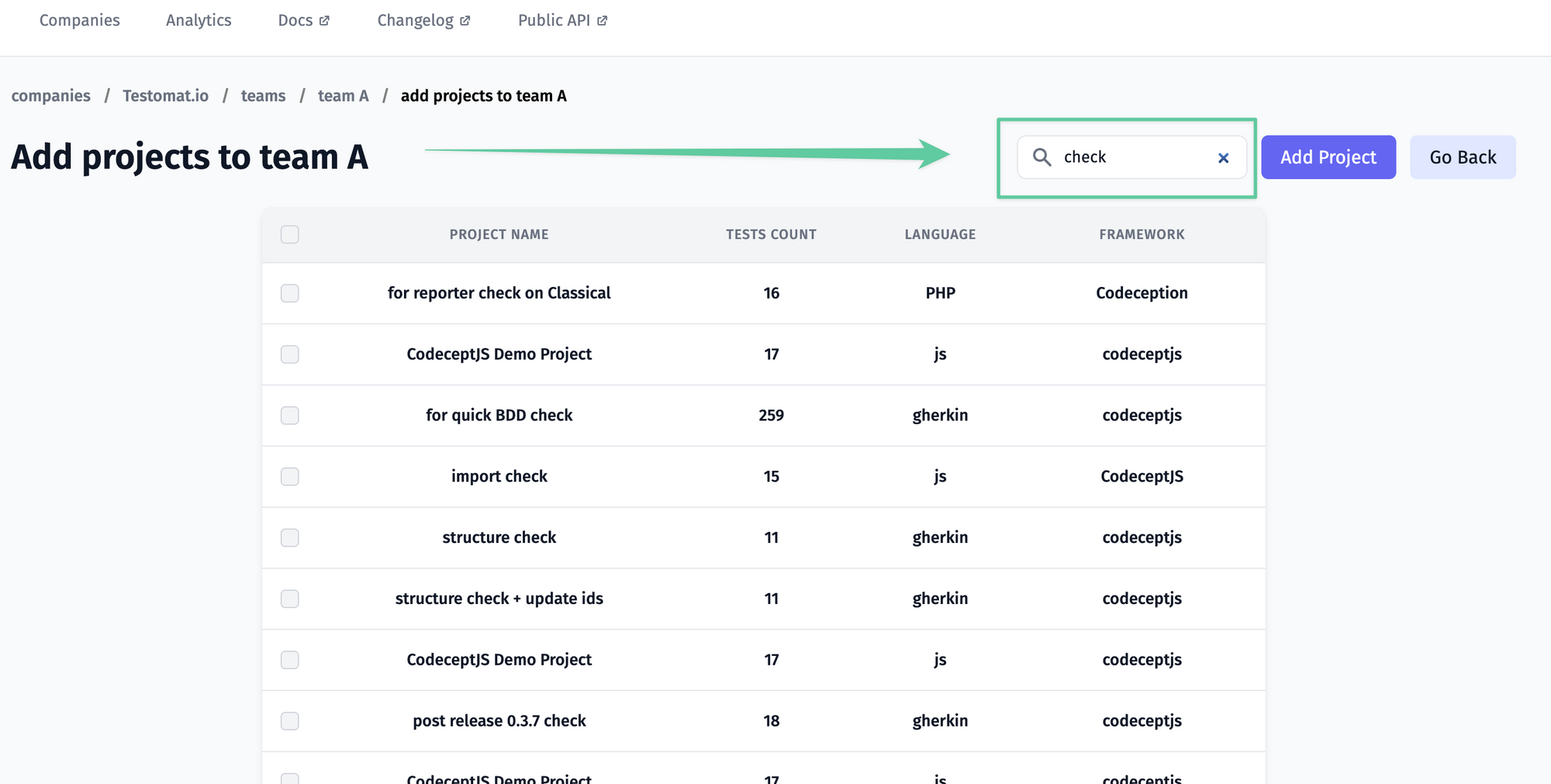 Fixes And Improvements 🛠️
Infinite load when opening a purged Run Report
Testomat report doesn't show all tests by default
Child scenarios does not display inherited tags immediately after parent tags are edited
Automatically redirect to the first page of the run history when you open the report on another page